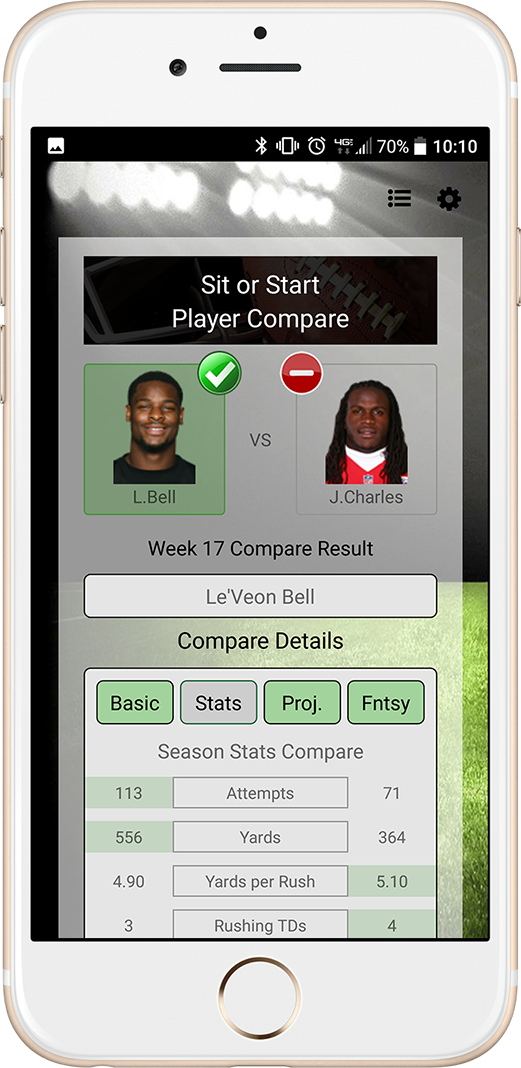 Sit or Start Fantasy
Utilizing the power of stats and analytics, Sit or Start Fantasy gives you all the information needed to make the decisions to bring you fantasy success.
Stats: The Power of Numbers
Detailed Season and Week based breakdowns and projections for both players and Defense and Special Teams. Utilizng a variety of sources including Yahoo, FanDuel, Draftkings and our own breakdowns, we crunch and show the numbers to give you an edge.

Other features include expert picks/rankings, daily gaming valuations/salaries, odds/gaming breakdowns, leaderboards, standings and more.
Analytics: Data in Focus
Player stat charting, trending, side-by-side player compares, projections, daily fantasy gaming analysis and more. Powerful tools when making tough fantasy decisions!
Player Compares: Complete side by side view
Our proprietary and user favorite feature. We allow users to select two players, and on submit, we give a complete breakdown of player details, season, and projected performance. Utilizing this data, and our proprietary selection system, we will show a complete view of the player matchup, and who we would recommed to start in your fantasy lineup.

In the 2016 season, Sit or Start Fantasy had over 100,000 player compares performed. For player compares that Sit or Start made a recommendation, we were correct 69.88% of the time!
Learn More